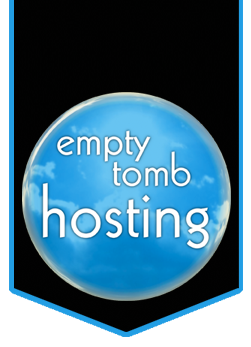 Welcome
For years Empty Tomb Graphics has been providing hosting services for our clients as an added service to our website design. Our desire has always been to assist our clients, so managing their domains, hosting and even email was a natural progression.
As a client, if you enjoy searching for the cheapest hosting, setting everything up and keeping up with renewal dates, then we salute you. If the above sounds dreadful and you would rather spend your time pursuing other interests contact us.
Services
Empty Tomb Hosting offers the following hosting services
Three different hosting plans as outlined below to better meet our clients needs.
Domain Registration with ID protection
Email Services with SpamAssassin
128 Bit Industry Standard SSL Site Certificates
Economy
This hosting package is great for individuals, non-profits, and small businesses not wanting to pay for excess server space and monthly bandwidth.
2 GB Storage
10 GB Bandwidth per month
1/10* E-mail accounts


(forwarded from website)

$90** per Year
Standard
This hosting package is great for small to medium size businesses and non-profits who need more server space and anticipate a higher volume of traffic.
4 GB Storage
40 GB Bandwidth per month
5/25* E-mail accounts
$120** per Year
Premium
This hosting package is great for larger businesses who have an e-commerce or content management website needing ample storage and greater bandwidth.
10 GB Storage
100 GB Bandwidth per month
10/100* E-mail accounts
$150** per Year
* The cost includes the setup of the number of email accounts shown in the first number of the total available email accounts shown in the second number. For instance, with the Economy plan we will setup 1 email accounts of the 10 available to you in the cost of the plan.
** Price reflects yearly usage fee and does not include a one-time $45.00 set-up fee.